Invest In Paybookclub
Invest In Our Equity & Boost Your Crypto Worth
Upto 20% Equity in Pabookclub is available for investment
Paybookclub owns crypto asset PAYBO on Stellar Blockchain
Only 2 Billion PAYBOS will be issued & will exist in circulation
1 Billion PAYBOS will be sold in ICO to Investors
Investment FACTS
Investing in Paybookclub is Invsting in Stellar!
Stellar Blockchain is used by Major Banks for transactions
Stellar crypto XLM is currently 10th in capitalisaion and trusted
PAYBO is the crypto of Paybookclub on Stellar Blockchain
PAYBOS will be backed up by the wealth created by Pabookclub
1 Billion PAYBOS will be sold in ICO /Investors for development
Investors are welcome to Invest in EQUITY (SAFES) and OR in ICO
PAYBOS can be traded on Stellar Exchange for Bitcoin/XLM
Exchange
Trade in PAYBO Here!
Orderbook
Current bids and offers!
Buy PAYBOS
Enter your price in XLM and quantity to buy PAYBOS!
Sell PAYBO
Enter your price in XLM and quantity to sell PAYBO!
Wallet
Your PAYBO wallet!
My Wallet
See your PAYBO and other Crypto Balance!
Roadmap
Important Milestones for Paybookclub
Skillset
Paybookclub Architect
CEO Capexsales Ltd
Sales & Marketing
Resumé
Download PDF (1.3mb)
GET FREE PAYBOS
Get PAYBOS Free to Boost Your Crypto Worth!
Get paid for anything you post
Get paid again to share your post in Social Media
Get paid Day & Night when your post gets monetized
Get paid in PAYBOS you can trade all day for Bitcoin/XLM
Get Paybookclub App now and start getting PAYBOS free.
What is Paybookclub?
Paybookclub pays you Day & Night for your posts reshaping Social Media as your Workplace!
What is PAYBO?
PAYBO is the utility crypto currency of Paybookclub created on the Stellar Block Chain
PAYBOS AIRDROP
How to claim 100,000 PAYBOS Airdrop
STEP 1:Download and install Paybookclub App on any Android Phone.(Use a friend's phone if you have no Android Phone).
Download Paybookclub App
STEP 2: Click 'Sign UP' Button and follow steps to Sign Up. If you have no Android phone, ENTER your iPhone/other number in the Android phone to receive our OTP and complete your Sign Up.
STEP 3: In the App, click the Hamburger menu on top left to see your USER ID and copy it.
STEP 4: Copy PUBLIC KEY of your Stellar Wallet. Create a Wallet (You need to spend 5 XLM) if you do not have a Stellar Wallet.
STEP 5: E MAIL your Paybookclub USER ID and YOUR Stellar Wallet PUBLIC KEY to paybookclub@gmail.com.
STEP 6: You will receive an E Mail in return confirming the credit of 100,000 PAYBOS in your Wallet account with links to promote Paybookclub for referral income. Start Trading Paybos.
Paybookclub App Review
The Best Social Network to Make Instant Money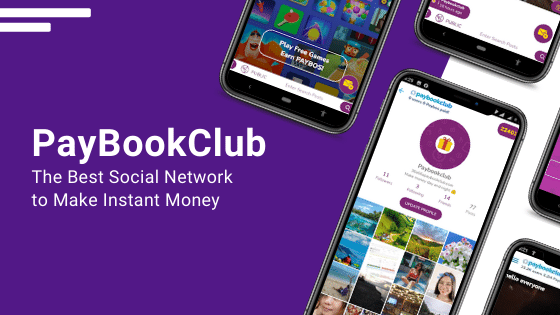 The free money-making app pays for every submission you make and then for every like, share, comment your post gets. You get paid every time someone boosts your post or exports it to a website. You can also sell your post and make money off other potential viral posts by buying and boosting or reselling them.
More Free Paybos
Sign Up & get 1000 Paybos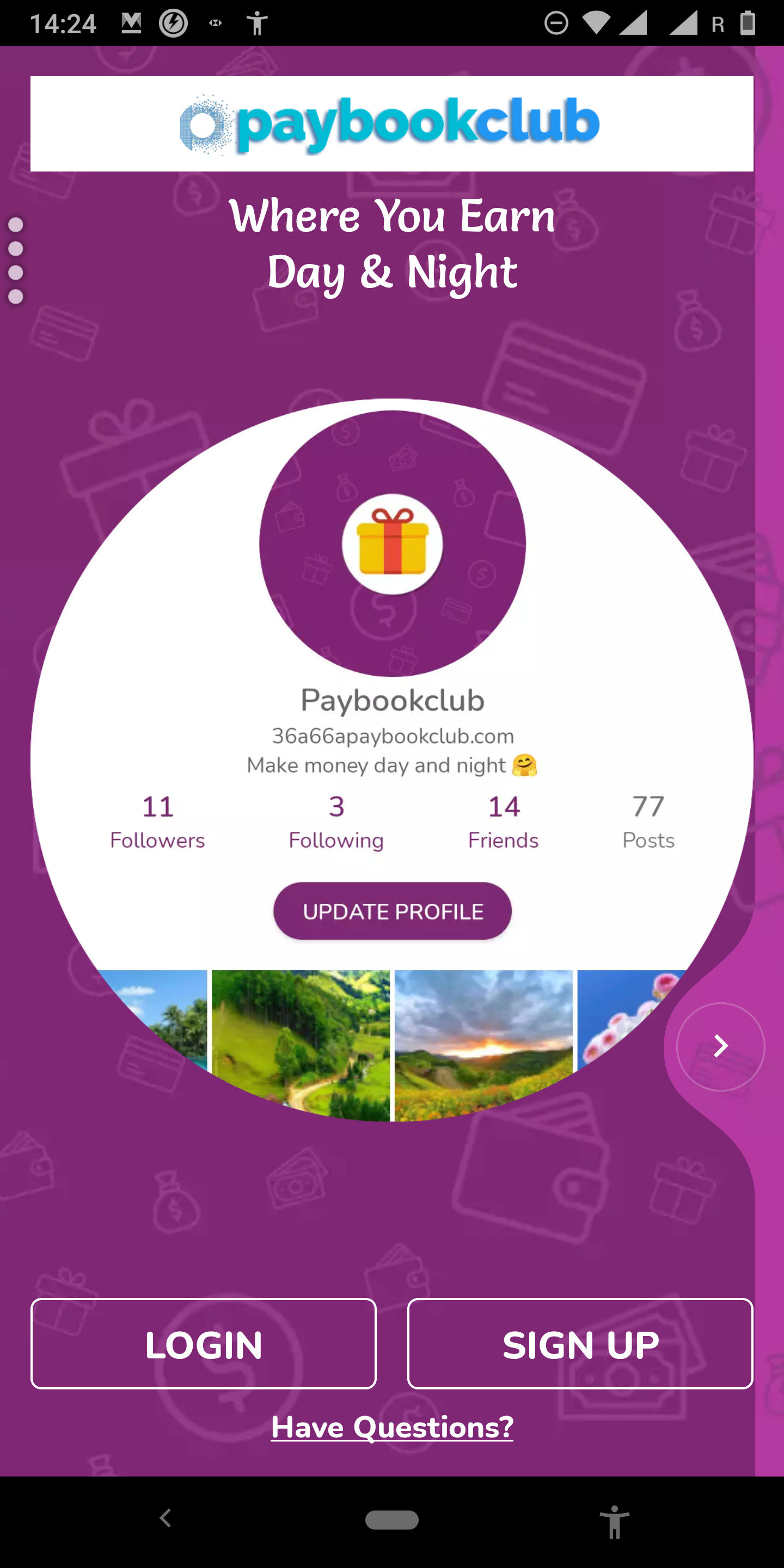 There are many things you can do on the Paybookclub App to earn more free Paybos.
More Free Paybos
Share the App get 100 Paybos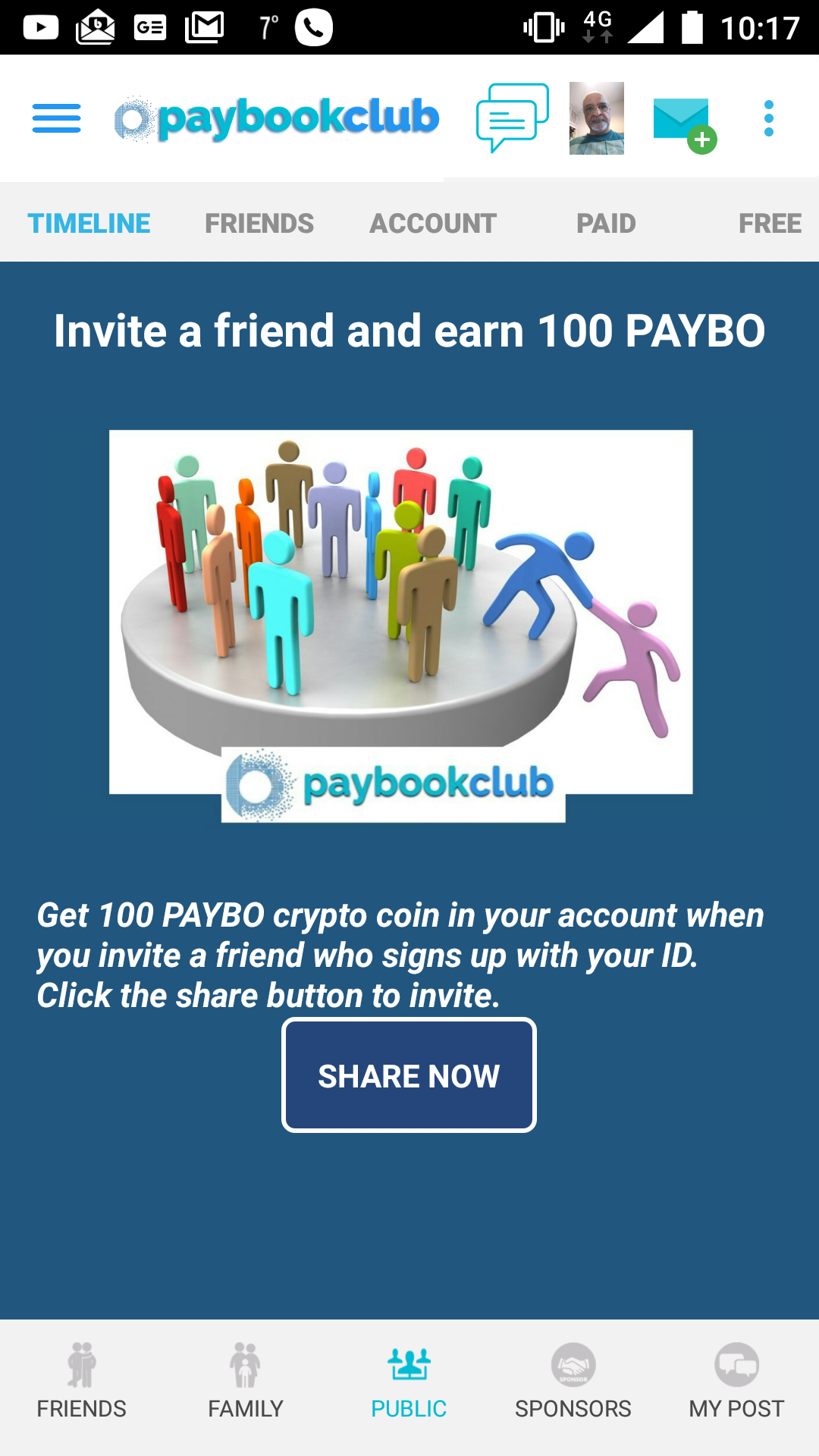 Earn 100 free Paybos everytime you share the App & a friend signs up.
More Free Paybos
Post anything get 100 Paybos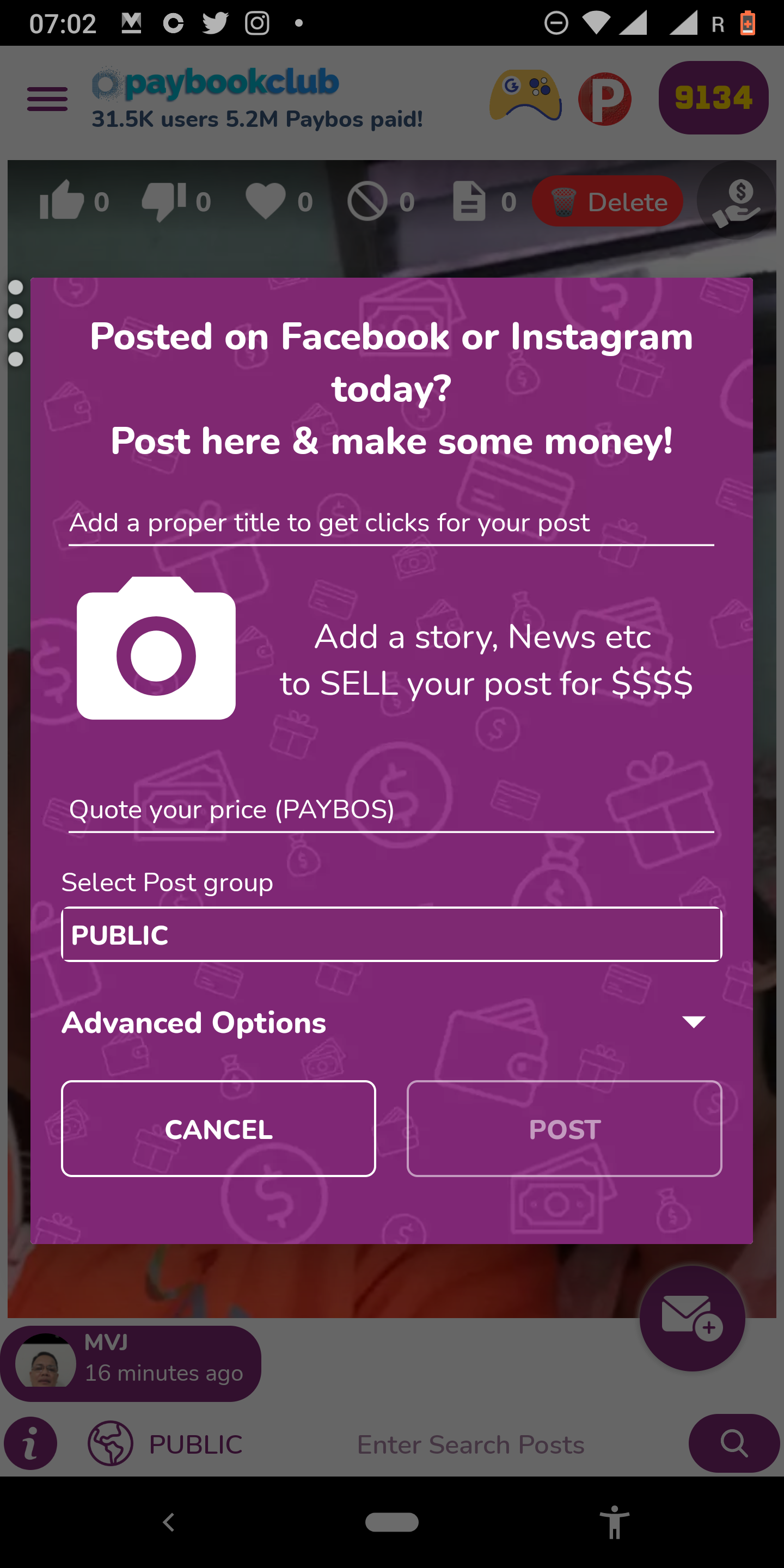 Each time you make a photo post 100 Paybos will be credited to your account.
More Free Paybos
Do many things Get 10 Paybos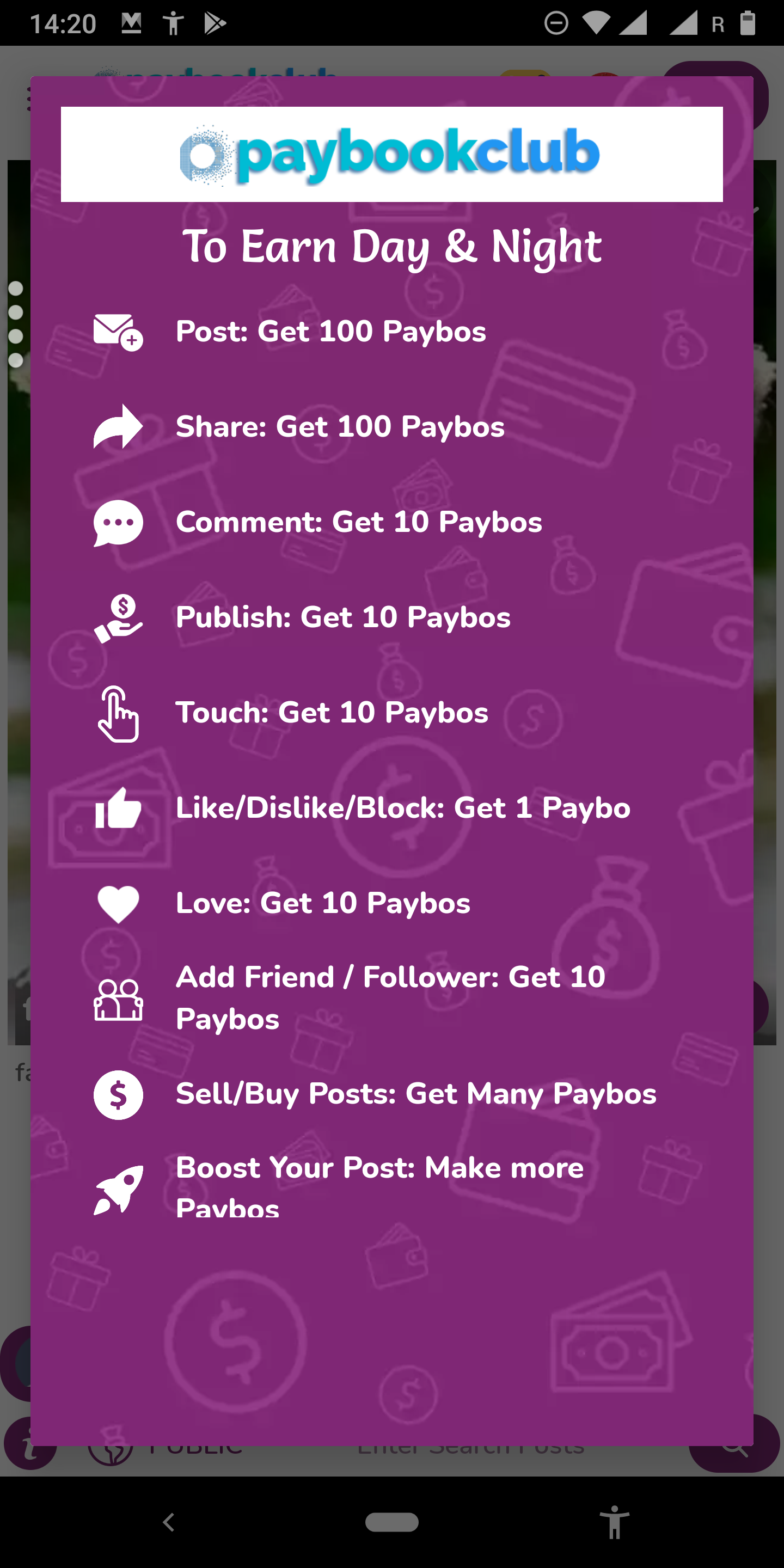 Socialise with friends and earn 10 Paybo rewards for a variety of ctions you do on Social Media for free.
PAYBO DISTRIBUTION
Trade PAYBO Now to Boost Your Bitcoin Worth!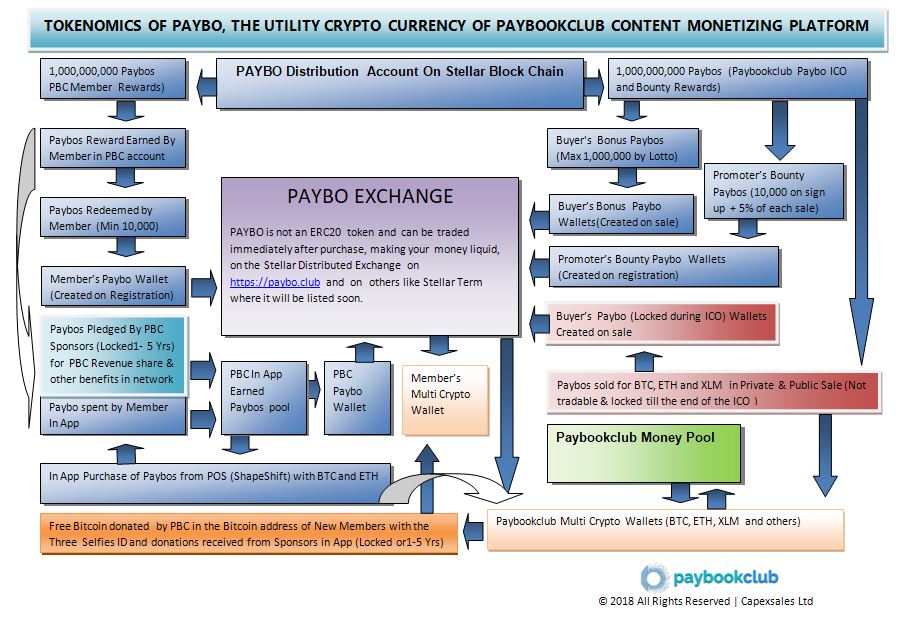 PAYBO, a utility token created on the Stellar Block Chain for Paybookclub is already trading. Paybookclub monetises user generated content and rewards users in Bitcoin or PAYBOS and aims to boost Bitcoin by mass adoption by millions of its users.
PAYBO FACTS
PAYBO is built on a Blockchain used by big banks!
PAYBO is the crypto of Paybookclub on Stellar Blockchain
PAYBO is a global currency with small transaction costs
Only 2 Billion PAYBOS will be created and in circulation
1 Billion PAYBOS will be paid FREE to Pabookclub Users as rewards
1 Billion PAYBOS will be sold in ICO /Investors for development
PAYBOS can be traded all day for Bitcoin/XLM
Get Paybookclub App now and start getting PAYBOS free.
>
Feature
Blockchain Technology in Paybookclub
Paybookclub employs Block Chain technology for protecting IP rights of user generated content and provides Block Chain based infrastructure and services for networking, publishing and sharing content.
Using PAYBO as its crypto currency for rewarding users and minimising costs of transactions while adding privacy and safety users, Paybookclub network provides the users with a crypto income from their content.
Feature
PAYBO creates mass adoption of Bitcoin
Paybookclub will create, distribute and manage PAYBO by pegging it to Bitcoin by an innovative concept which will both enhance its value and release it for the benefit of millions. PAYBO will be a loyal defender of Bitcoin.
Our 3 Selfie ID system will convert personal ID to Bitcoin adress pair.Paybookclub will then donate some bitcoin to the ID and incentivise others to donate too. For millions of people around the world this will form an insurance cover, especially with Bitcoin value going up.
Feature
Global Mobile Network
Paybookclub is a futuristic, AI driven, user generated content monetising platform on mobile phones and aims to be the Content Market of the world.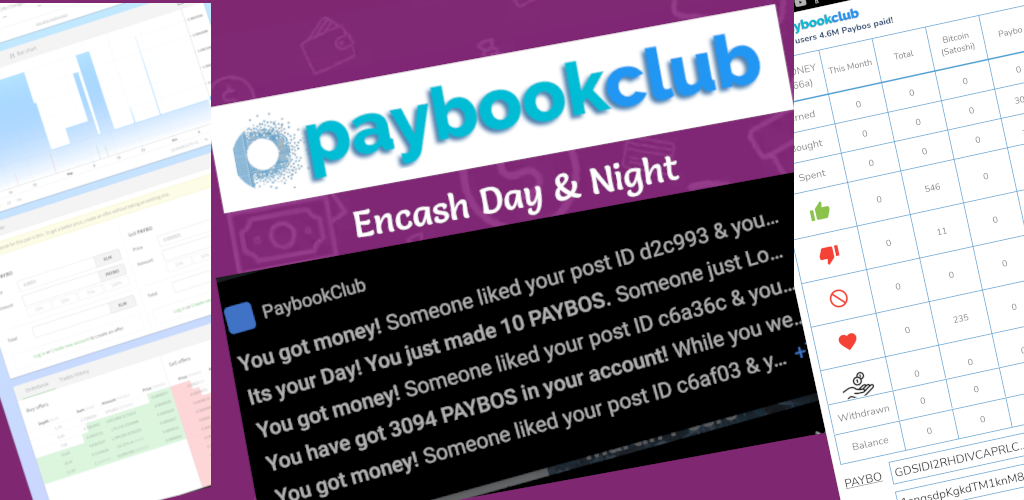 PAYBOS ICO
Public Sale of 1 Billion PAYBOS
One Billion PAYBOS, the crypto of Paybookclub Network, will be sold in an ICO ( initial Coin Offer) to reach 1 Million Users.
Public Sale start: March 1, 2022 (9:00am GMT)
January 2016
Concept of Paybookclub on DLT
The concept of of a Global Mobile Mobile Network to procure User Generated Content in Social Media was formalised.
January 2017
Paybookclub App on Android & iOS
Version 1 of Paybookclub App was released to validate the conceptusing Cloud infra structure and document based data base.
July 2018
Paybookclub 3 & PAYBO creation.
The mobile App is now ICO ready and we have a brand new Crypto coin PAYBO on the Stellar Network. We are excited about the ICO.
PAYBO PUBLIC SALE
Public Sale start:
March 1, 2022 (9:00am GMT)
Buy PAYBOS Now
Buy PAYBOS Now with XLM at rock bottom prices from Paybookclub Users
PAYBOS AIRDROP
Earn 100,000 PAYBOS Free with PAYBOS AIRDROP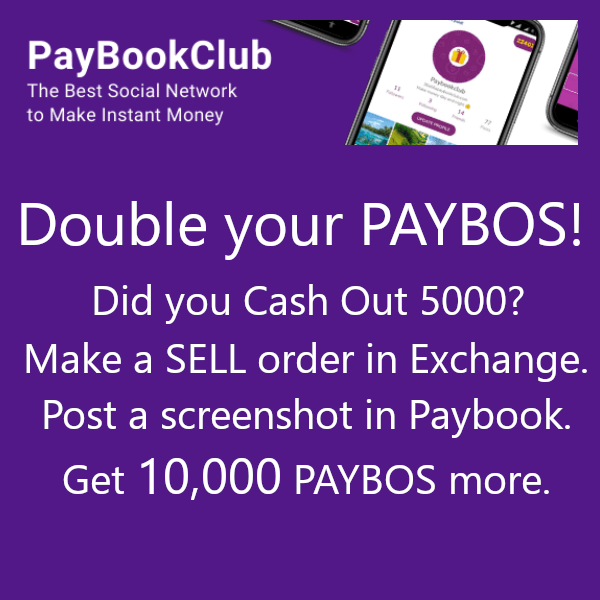 Cash out 5000 PAYBOS & place a SELL order to trade. Post a Screenshot in Paybook & get 10000 PAYBOS. Click to Sign Up
February 2019
Integration with Bitcoin
Every member of Paybookclub will be turned in to a Bitcoin HODLer by our very innovative technology.This will be a crucial App release.
Skillset
Architecht
Private Investor
OTC Trader
Resumé
Download PDF (1.3mb)
Skillset
Project Management
Social Media Marketing
Blockchain, DLT
Resumé
Download PDF (1.3mb)
Skillset
Java Script, Nodejs
ReactJS, Mogo DB
Blockchain, Solidity
Resumé
Download PDF (1.3mb)
Q3 2020
Paybookclub crypto PAYBO start trading
The PRE SALE has turned in to trading of user rewards in exchanges. The PUBLIC SALE of 1 Billion PAYBOS will take place in Q3 2021.
Q4 2022
Full Monetizing and Payment System
Paybookclub will be developped in to a content generation & monetizing platform and use Bitcoin & PAYBO in several ways.
Q4 2023
Million Members in Paybookclub
We plan to upgrade the Paybookclu Platform with different Content and revenue generation streams and hit a membership of 1 Million.
contact form
Drop us a line and we'll get back to you asap!
Details
Get in touch with us directly: